AUSTIN, Texas – Feb. 16, 2017 – Single-family home sales posted strong gains throughout the Austin-Round Rock Metropolitan Statistical Area (MSA) in January, according to a new and expanded Central Texas Housing Market Report released today by the Austin Board of REALTORS®.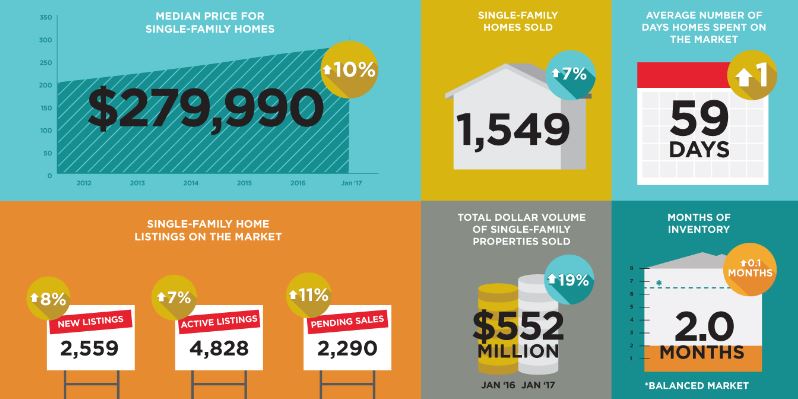 Brandy Guthrie, 2017 President of the Austin Board of REALTORS­® commented, "Consecutive years of strong housing demand and sales growth throughout Central Texas have significantly changed housing market conditions in Austin and the surrounding region. The radius of local market areas with critically low housing inventory levels has expanded out from Austin into surrounding counties, shifting the price range of available homes in local communities upward."
Single-family home sales in the Austin-Round Rock MSA increased 7.0 percent year-over-year in January 2017 to 1,549 home sales. In the city of Austin, single-family home sales jumped 9.8 percent annually to 469 home sales during the same time frame.
Housing inventory levels remained largely flat across the Austin-Round Rock MSA in January 2017, increasing 0.1 months to 2.0 months of inventory. Housing inventory levels in Williamson County and other markets are now on pace with housing inventory levels in the City of Austin, which remained unchanged in January 2017 at 1.4 months of inventory. The inventory of single-family homes priced under $250,000 is now less than 1.0 months of inventory in many local markets.
Area home prices continued to climb at a steady pace in January 2017. In the Austin-Round Rock MSA, median home price increased 9.8 percent year-over-year to $279,990, while the median price in the city of Austin increased 2.3 percent year-over-year to $312,000.
"The range of home prices available in local market areas are slowly trending upward, changing the local profile of what homes and price ranges are considered 'affordable'," added Guthrie. "Single-family homes priced for entry-level homebuyers are increasingly harder to find throughout the region."